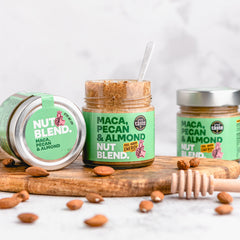 WE'RE CHANGING THE NUT BUTTER GAME.
Welcome to Nut Blend and our world of good energy.

Our range of unique, nutritious nut butters naturally satisfy without the sugar high. We blend complementary ingredients and add no unnecessary sugar, sweeteners salt or oils. Just nuts and a pinch of natural spices for flavours that brighten and boost.
Spread it on toast, pour it over oats, blend it into a smoothie or stick a spoonful straight in.

Your dose of feel-good energy is here.
In 2015 I wanted to boost my energy without relying on sugar, which ultimately makes me crash. I invested in a food processor and started experimenting with healthy spreads; unique blends of nuts and a pinch of natural spices - nothing else.
What started as a hobby quickly turned into product development. I fell in love with the recipe and how great it made me feel - and genuinely couldn't put the spoon down!
That was the light bulb moment. I was immediately inspired to set up a business and share this feeling with the rest of the world. Whether you eat it on porridge, yoghurt, toast or simply with a spoon, I hope you enjoy our products as much as I do.
Gabriella
Founder of Nut Blend