NUTRITIONAL INFO.
Peanuts, Hazelnuts, Cinnamon, Ginger, Clove. See allergens in bold.
Typical Values
Per 100 G
Per 15 G
of which saturates
8.0g
1.2g
of which sugars
5.8g
0.9g
PUT SIMPLY. 
WE'RE FILLED WITH FEEL GOOD.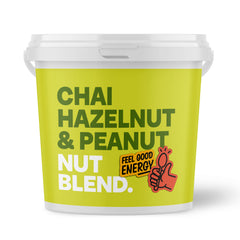 PUT SIMPLY. 
WE'RE FILLED WITH FEEL GOOD.
Unique Flavours
We blend all of our flavours from scratch and they only get the thumbs up when they pass the licking the spoon test. Aka, they're delicious!
Mood Boosting
Getting your daily dose of nuts strengthens the brainwave functions that help make you feel A-ok.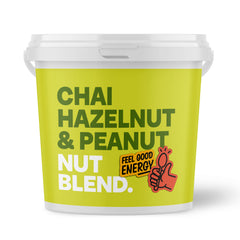 Natural Energy
Nuts contain both protein and healthy fats to provide genuine feel good energy throughout the day.
NO ADDED SUGAR
Our sweetness comes from the natural ingredients and spices we use - and a little bit of us! Literally no added sugar, salt or oils.
Absolutely love it!

"Just tried the Coconut, Macadamia & Almond Butter and WOW it is truly amazing. We absolutely loved it and suddenly 1kg doesn't seem like enough!"

Craig D.
Feels like a healthy treat!

"I love the combinations of nuts and flavours, and the fact there's no added sweeteners! There's a huge range of nut butters now but these blends feel different and more luxurious somehow."

Linda E.
The best nut butter!

"This is exactly what I've been looking for - all natural ingredients, nothing hidden and tastes absolutely delicious! I recommend in oats with cherries."

Ocado Customer.